Quality Interior Painting in Naples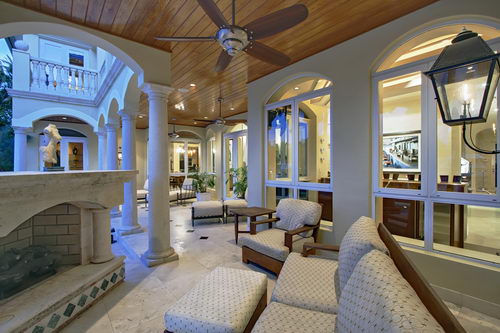 There have been recent reports from the Florida Board of Realtors that the property values in Naples are continuing to skyrocket. Eventually, they expect the property values in the area to level out, and stabilize. This stabilization will be determined by the changes in the interest rates charged by the mortgage industry. Because of the higher home values, many people in SW Florida are choosing to sell their homes to live a bit more modestly, and improve their savings accounts. If you're one of the many potential home sellers, you should seriously consider contacting a company for interior painting in Naples. Having a fresh coat of neutral colored paint in the home will be a plus for potential home buyers. In all honesty, many real estate agents believe that a freshly painted home shows better and sells quicker than those that go unpainted. Alex Quality Painting offers high quality interior painting in Naples and the surrounding areas.
Naples Interior Painting Specialists
When preparing your Naples home for sale, it is very important that you choose the proper paint colors for the inside of the house. Lemon yellow and deep sea blue may be your very favorite colors however; such specific colors can turn off buyers, and cause them to fail to see the good points of the home. It's best to stick with very neutral colors. Paint colors such as beige, pale gray, or off white are much more suitable options for selling your home. These are the colors most real estate agents suggest for interior painting in Naples. It would be wise to select from those options. Alex Quality Painting uses only top of the line products for interior painting in Naples and Collier County.
Complete Interior Painting in Naples
It's imperative that home sellers understand that simply repainting one or two rooms won't cut it with people seeking to buy a new home. Having complete interior painting in Naples prior to listing the property is a good idea. Fresh paint throughout the house will make the home look brighter, cleaner, and newer. This would be a big plus for those interested in buying a property. It means less work and expense for them, and could actually increase your selling price. Let's face it; a higher sale price means more cash in your pocket. Alex Quality Painting provides complete interior painting in Naples.
Full Service Painting in Naples
Alex Quality Painting offers a host of painting services, including interior painting, exterior painting, residential painting and commercial painting in Naples, Port Royal, Fort Myers, Bonita Springs, and Marco Island. The professionals are among the best in the industry in SW Florida. Call Alex Quality Painting at 239-348-2202 for quality interior painting in Naples.
Posted in Blog