Patio Paver Sealing in Marco Island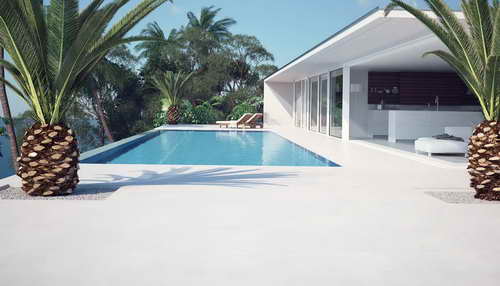 There are many homeowners in Marco Island who have recently added patio pavers to enhance the beauty of their homes. There's much more benefit to installing patio pavers than just the aesthetic appeal. They are definitely a big help on keeping sand, dust, and dirt off of the floors in the home. Let's face it; the less work that needs to be done cleaning inside of the house, the more time there will be for enjoying the outdoors. Living in Marco Island, that one of the reasons people flock to this great community. Patio pavers make the outside of the home much more comfortable, and decrease the amount of wasted space in the yard. No longer will you need to worry about the grill sinking into the earth during the rainy season, or dragging in wet sand either. With all of these good reasons for installing patio pavers, it's important to keep those pavers looking good for many years to come. Proper patio paver sealing will prolong the life of the pavers. Alex Quality Painting Contractor LLC offers professional patio paver sealing in Marco Island.
Naples Patio Paver Contractor
The patio paver industry has been adding much more colorful pavers to their collections over the past few years. There are pavers to match nearly every style of home in Naples. Many people are surprised to see that some of these patio pavers have truly brilliant colors that will truly add that needed "pop of color" to a home. Most gated communities in Naples that require only specific colors on the houses allow for any color of patio pavers driveways and landscape areas. The professional patio paver sealing specialists at Alex Quality Painting Contractor LLC will ensure that your Naples home's patio pavers are sealed properly to preserve the life expectancy of your investment.
Complete Patio Paver Sealing Services in Fort Myers
Sealing the patio pavers at a Fort Myers home is essential to preserve the color and integrity of the pavers. In all honesty, considering the cost of the investment, you will want to ensure that the pavers look great for many years. This can be accomplished with professional patio paver sealing contracting services for your Fort Myers home. It's always better to protect what you have, than have to replace what has deteriorated. Alex Quality Painting Contractor LLC offers quality patio paver sealing in Fort Myers.
Professional Patio Paver Sealing Services
Whether you live in Marco Island, Naples, Fort Myers or Bonita Springs, the professional patio paver sealing specialists will be happy to help you maintain the good look of your patio paver driveway and landscape areas. Call Alex Quality Painting Contractor LLC at 239-825-6001 for patio paver sealing services in Southwest Florida.
Posted in Locations