Kitchen Painting Contractors for Estates in Naples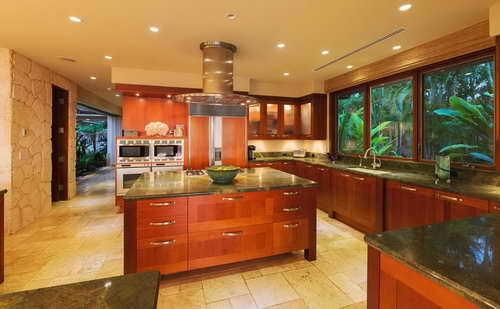 There are so many painting contractors in Naples that it would take a month of Sundays to get in touch with every one of them. On top of all of those companies, there are even more people claiming to be painting contractors on websites like Craigslist. Unfortunately, most of these so called interior painting contractors have no clue of how to deal with estate kitchens in Naples. Many self-proclaimed painters believe that slapping a coat of paint on the ceiling and walls is good enough and that just isn't so. At Alex Quality Painting Contractor LLC, our painting contactors will never consider the job complete until the project is completed to the homeowners' satisfaction.
Marco Island Kitchen Painting Contractors
Kitchens tend to be the grimiest room in any Marco Island home. It isn't that the owners don't clean them. In fact, it's because grease and oils are dispersed during cooking. Once the grease gets into the air, it will settle on surrounding objects. Oftentimes, this is the kitchen cabinets, countertops and even the paint. Sure, washing the walls helps to keep them clean however; a fresh coat of paint regularly will have the kitchen looking great. A professional painting contractor can suggest a paint that will be easy to clean and maintain its sheen for your Marco Island kitchen. Alex Quality Painting Contractor LLC's painting contractors use only the highest quality paints for their Marco Island clients.
Professional Painting Contractors for Kitchens in Fort Myers
Many Fort Myers residents have had experiences with interior painting contractors that keep seem to get their kitchens painted in a timely fashion. These unreliable interior painting contractors give all painting contractors a bad name. It is essential that every Fort Myers homeowner ensures that the date the job must be finished is clearly written on the contract. Professional painting contractors will always be glad to do so. This will help to make sure your kitchen is completed on time. All reputable interior painting contractors will require a contract with their clients. This protects both the painting contractor and the client. Alex Quality Painting Contractor LLC always provides their clients with estimates as well as contracts.
Reputable Interior Painting Contractors for Kitchens
When it comes to interior painting contractors, Alex Quality Painting Contractor LLC has a stellar reputation. Because of this, their clients are loyal and always contact them for additional projects. Their painters are some of the best that the industry has to offer in Naples, Marco Island and Fort Myers. At Alex Quality Painting Contractor LLC, only the most professional and experienced interior painters are employed. Call 239-825-6001 to learn why Alex Quality Painting Contractor LLC is the premiere interior painting contractor in Southwest Florida.
Posted in Locations