Naples Residential Painting Services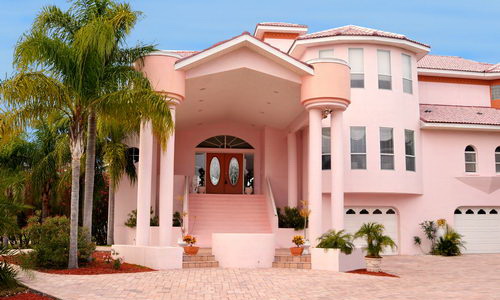 The vast majority of people in Naples take great pride in the homes or condos that they have scrimped and saved to purchase for their families, as they very well should. Saving for a home in Naples can be a difficult thing to do these days. The property values are going up and up, which is a good thing for those who bought them "at the right time". Maintaining those homes is the quintessential way of protecting the great investment that the homeowners made in Naples real estate. Two of the most important things that needs to be kept up with are the exterior painting and interior painting of the home or condo. A home just looks shabby if the paint is faded and dingy. A quality paint job is a must to protect the home. Professional residential painting just makes it look so much nicer. Alex Quality Painting offers top notch residential painting in Naples.
Residential Painting in Bonita Springs
Those living in Bonita Springs know that the rain and wind from tropical storms and hurricanes can take a toll on the exterior paint on their homes. This is especially true for houses that are close to the beach. The heavy winds can pick up sand causing a sandblasting effect on the paint. Once the paint begins to erode, the outside of the home is no longer protected. This could lead to stucco damage, and even mold growth. Residential painting should be performed regularly to protect the integrity of the Bonita Springs home. Ignoring the paint will just cause the potential problem to grow and grow. At Alex Quality Painting, the residential painting contractors take pride in helping you beautify your home in Bonita Springs.
Port Royal Residential Painting Contractors
Most of those residing in beautiful Port Royal update their furniture and accoutrements on a regular basis. Just as clothing has trends that change, paint and furnishing trends change too. It's important to keep a high end home in Port Royal trendy and on pointe. Guests entering such homes expect their first impressions to be that of awe and beauty. Experienced residential painting contractors in Port Royal are fully able to handle a variety of painting styles and techniques. The residential painting contractors at Alex Quality Painting can handle any painting project necessary for your home in Port Royal.
Professional Naples Residential Painting
Alex Quality Painting offers a host of residential painting and commercial painting services throughout Naples, Bonita Springs, Port Royal and Fort Myers. The professional painting contractors also perform kitchen cabinets painting services, patio paver sealing, waterproofing and power washing services. Call 239-825-6001 to speak to a professional at Alex Quality Painting in Naples.
Posted in Services