Naples Power Washing for Commercial Properties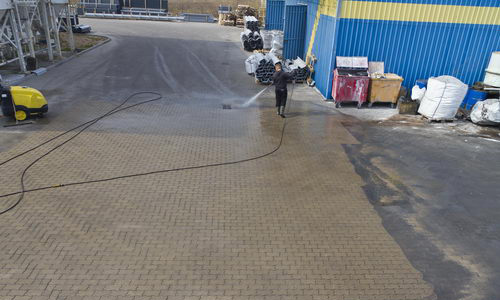 It is imperative that commercial property owners in Naples keep their properties looking pristine and well-maintained. Let's face it; people don't want to patronize businesses that have a dingy and unkempt appearance. Those businesses and offices that rent from you depend on the flow of customers and clients using their services and buying their products. A tidy and clean property will help the businesses gain new patrons, as well as retain their current ones. One simple thing that can make the building look fresh is water pressure power washing the exterior of the Naples property. This will remove any dirt and debris that has built up on the stucco over the years. A Naples water pressure power washing company can have the building sparkling in no time. Alex Quality Painting offers the finest water pressure power washing services for commercial and residential properties in Naples.
Water Pressure Power Washing in Fort Myers
Fort Myers certainly sees its fair share of tropical storms and hurricanes during the rainy season. This regular inclement weather can take its toll on a Lee County property. Nearly every property owner in the area has experienced that nasty green slime that appears on driveways and even on homes and commercial businesses. Believe it or not; this is mold growth. If water pressure power washing is not performed quickly, the mold growth can and will get inside of the Fort Myers building and take over. Alex Quality Painting provides professional power washing in Fort Myers and the surrounding areas.
Port Royal Power Washing Services
Keeping a Port Royal property is of the utmost importance for maintaining the highest possible property values. Having a painting company to perform residential painting services each year to keep the home looking fresh is not the answer. You can simply have a professional water pressure power washing company come in and get rid of the dirt and buildup that occurred during the year. Power washing in Port Royal should be performed annually to maintain the beauty of the home. Alex Quality Painting is experienced in providing water pressure power washing services in Port Royal.
Complete Water Pressure Power Washing Services
Alex Quality Painting offers a variety of residential and commercial services in SW Florida, including interior painting, exterior painting, patio paver sealing, renovation and power washing services. The expert water pressure power washing technicians provide services in Naples, Fort Myers, Port Royal and Bonita Springs. Call 239-348-2202 to schedule and estimate from Alex Quality Painting.
Posted in Services