Quality Exterior Painting in Naples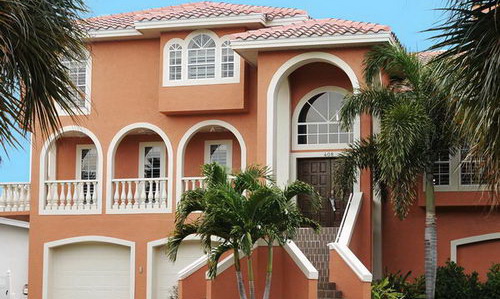 The outward appearance of a home in Naples is a very important thing. Most Collier County residents do all that they can to make their properties look like something out of a magazine. From carefully pruning trees and installing lush, accent plants to power washing the driveways to remove stains, some people in Naples pay attention to every detail on the outside of their homes. The one thing that people actually avoid having done is exterior painting. People tend to think that the bits of peeling paint can't be seen from the road, so they ignore it. The truth is that peeling exterior paint can be problematic for the structure as a whole. You see, a quality paint job performed by a professional exterior painting company can protect your home from deterioration. Let's face it! A home is generally the most expensive thing one purchases in their lifetime, and that investment must be protected. Alex Quality Painting offers professional exterior painting in Naples and the surrounding areas.
Fort Myers Exterior Painting Services
Loads of people flock to Fort Myers each and every year to partake in the fun in the sun for which the area is so well-known. While the main reason they come is for the beach, water and nightlife, many drive through the area just to look at the homes and neighborhoods in Lee County. It's important to show these visitors that Fort Myers homeowners take great pride in their homes. A professional exterior painting job will certainly do just that. Besides, quality exterior painting can even boost the resale value of a home. When a fresh coat of paint can increase the proceeds from selling a Fort Myers home, it is fiscally responsible to have exterior painting professionals tackle the job. The expert painters at Alex Quality Painting will have your home looking fresh and clean with professional exterior painting in Fort Myers.
Professional Exterior Painting in Port Royal
Port Royal is one of the most elite areas in all of Collier County therefore; it takes a truly experienced exterior painting company to properly perform painting services on such high end properties. Not every exterior painting contractor is capable of doing the job. In all reality, a less expensive paint job usually results in less than satisfactory results. Alex Quality Painting is experienced in providing exterior painting services on high end homes in Port Royal.
Naples Exterior Painting Contractors
Alex Quality Painting provides exterior painting, interior painting and a variety of other services in Naples, Fort Myers, Port Royal and Bonita Springs. The professional painting contractors take great pride in their work to ensure customer satisfaction. Call 239-348-2202 to discuss exterior painting services for your residential or commercial property.
Posted in Services